During the initial assessment we will ask you a number of questions related to your child's history of development and current skills. We will ask you to fill in our special intake form, so if you prefer to do it earlier, please let us know and we will email you the questionnaire.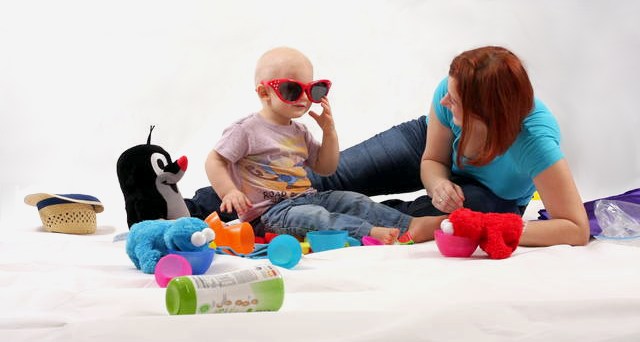 Please prepare yourself to answer questions about when your child started to walk, said first words and achieved other major developmental milestones. If your child received any therapy before or has undergone any important assessment, please let us know and if possible, prepare reports. These may include: psychological reports; medical evaluations; physical, speech or/and occupational evaluations; educational tests; teacher notes etc.
Make sure you will be able to give us examples of your child's current speech and communication abilities. If your child is a toddler, you may wish to create his or her vocabulary list for us, describe ways he does (or not) use his speech and let us know what he likes to play with.
Prepare your child.
You might find it helpful to talk to your child about the evaluation, who is she going to meet etc. several days before the first visit and again on the day of the assessment. Very young child may respond better if you will tell that she is going to meet and play with a teacher (or auntie). Older child should be able to understand that he will see a speech teacher who helps children use their words. Depending on the age (and diagnosis) of your child, we will complete the assessment in different ways, but we want all of the children feel comfortable. Hence, feel free to bring familiar toys with your child. Please choose one or two toys, so the evaluating therapist will have a chance to observe your child playing with one toy for a sustained period of time without moving to another activity. You may want to have some small snack food ready, but please do not offer food to your child without the therapist's consent.
Please schedule the assessment appointment considering your child's naptime and meal schedules, so we could have a chance to interact with your child for at least 30 minutes for a variety of play-based activities. If you have older child, make sure he will have enough rest before the visit, so we could use effectively the entire 60 minutes of your appointment. Try not to bring siblings for the evaluation, as the assessed child should have the entire focus for himself. Be considerable when planning how many adults will accompany the child to the speech therapy office, we want her to have optimal conditions for the evaluation.
---
Mummy, Daddy, please ...
Talk to me as much as possible, starting from the first days of my life. Do not raise your voice when it is not necessary. Your tame voice and smiling face calms me down.
Tell me what you are doing, what is just happening, what we are going to do together. I am so curious about the world.
Talk slowly, clearly, using short, meaningful sentences. Discuss things that I am able to understand, start with real objects and actions and later move to more abstract topics. I need time to learn new things.
Read stories with me, recite nursery rhymes and sing songs.
Answer my questions patiently, giving comprehensive information. I am asking so many questions, because I want to learn from you.
While talking to me, make sure I can see your face. Please look into my eyes and ensure I am looking into your eyes too. Use your smile and other non-verbal signs to support your communication. It will help me to understand you better.
Let's play with speech sounds, imitate animals sounds, vehicles. Short, meaningful utterances like "uh-oh", "oops" etc. will be easier for me to pick up and I am going to love to repeat them after you.
Observe whether I do react appropriately to different sounds; turning my head towards the sound source, responding to the telephone ring, rattle sound etc.
Make sure my teeth are appropriately aligned. Do not allow me to suck my thumb.
Remember that gross motor skills development is related to the speech development. If I started to walk later than my peers, it is very likely that I will start talking later. Stimulate my gross and fine motor skills.
Praise me verbally for any evidence of spoken communication, even if my achievement is not spectacular. Respond immediately to my utterances to tech me that speech is meaningful.
Do not allow me to become bottle dependent. I should start cup drinking practice as early as I am one year old. Introduce straw and more chewy foods to me, with a variety of tastes and textures.
Check if I breathe through my nose. You should be alerted if I constantly have my mouth open while playing or sleeping.
Encourage me to blow bubbles and variety of whistles. I love to make noises and pop out colorful bubbles.
If I do exhibit speech problems, react discretely, do not put me down or ask to repeat the word again and again. Be a good example. I am learning how to talk from you!
Listen to me. If I will know you really pay attention, I will talk more eagerly.
Do not force me to use right hand if I am left handed. It will be stressful to me and may even lead to stuttering.
Create opportunities for me to talk about what happened at kindergarten, what I saw during walk or to discuss my favorite TV show. I would like to tell you a story, share with you what kind of games I played with my friends and where we went during school excursion.
If I have speech or language problem, please try to solve it before I will go to school. I may have difficulties with reading, handwriting and learning or even be teased by other children. The younger I will be when the treatment will start, the faster I will pick up new skills.
It is good for me to interact with other children, go to preschool or day care centre. It will encourage me to talk and help me to practice my social and communication skills.
If you suspect I do have any difficulties, please send me to a specialist, do not talk about my problem in front of me. I may feel ashamed and start to avoid talking.
Thank you for taking good care of me!